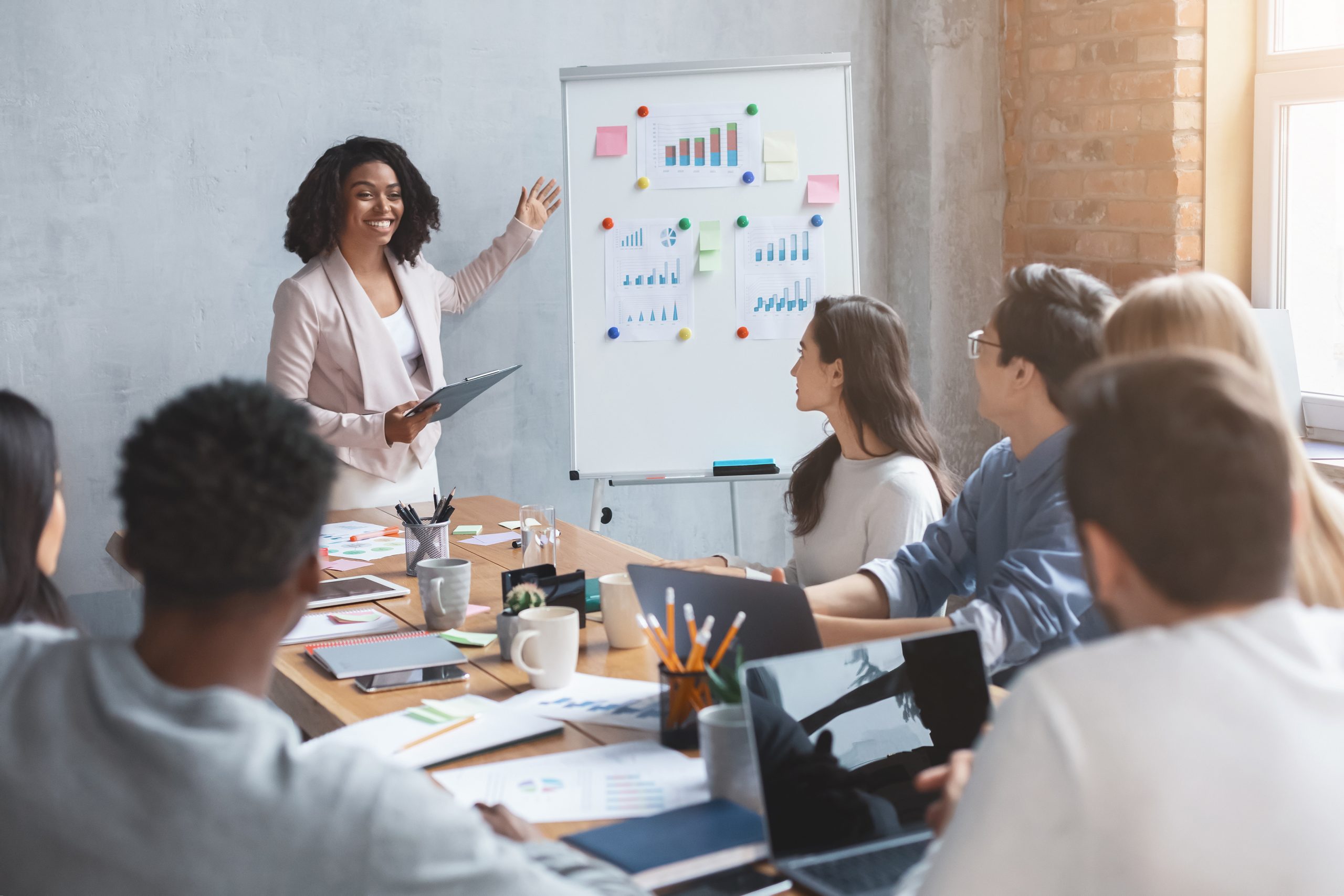 Preparing for a Board Retreat? Do a Board Assessment First
If your charter school board is preparing for a board retreat, be sure to complete a board assessment in advance.
Charter school governance is a high-stakes endeavor. It must be treated with the professionalism it deserves.
Charter schools use data to drive excellence in every aspect of the organization — their human capital pipeline, student recruitment processes, and academic results.
But governance is often left out of this equation.
Your board is expected to be a highly effective team that's been strategically assembled to bring the skills, expertise, temperament, and time to govern a multimillion-dollar public enterprise.
To prepare for your board retreat, take a data-driven approach to governance. Gather data to establish where you are as a governance team, where you want to get in the coming year, and what you'll do to get there.
Guided by a data-driven board assessment, the annual board retreat is central to a charter school board's evolution and professionalism.
Articulating what your board does well, and where it needs to improve, isn't simple.
But doing so is key to ensuring your board makes a difference to your school and is a strategic partner to your CEO.
We've defined the pattern of development that charter school boards consistently follow. We call it the Path to Excellence.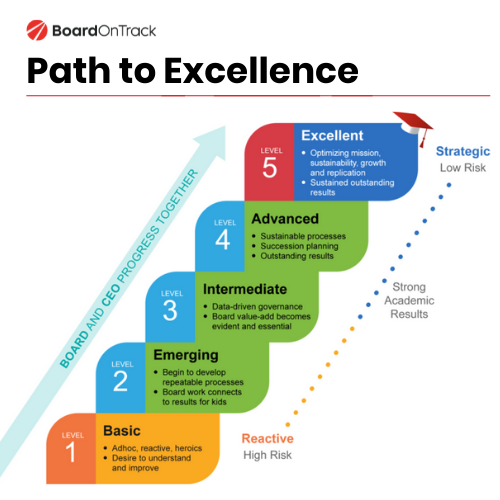 Charter school boards tend to start out with getting down the basics of board governance. They're showing up and holding their meetings regularly.
But that tends to be a very reactive approach to governance. As the charter school evolves, the board needs to evolve alongside it. Charter school boards are most impactful when they can be more strategic than reactive.
A data-driven annual board assessment like the one built into BoardOnTrack shows your board, year over year, the exact areas that your board needs to develop.
You see exactly where your board is on the path to excellence.
Then, at your board retreat, you can decide exactly what you'll do to ensure your board evolves to meet your charter school's evolving needs.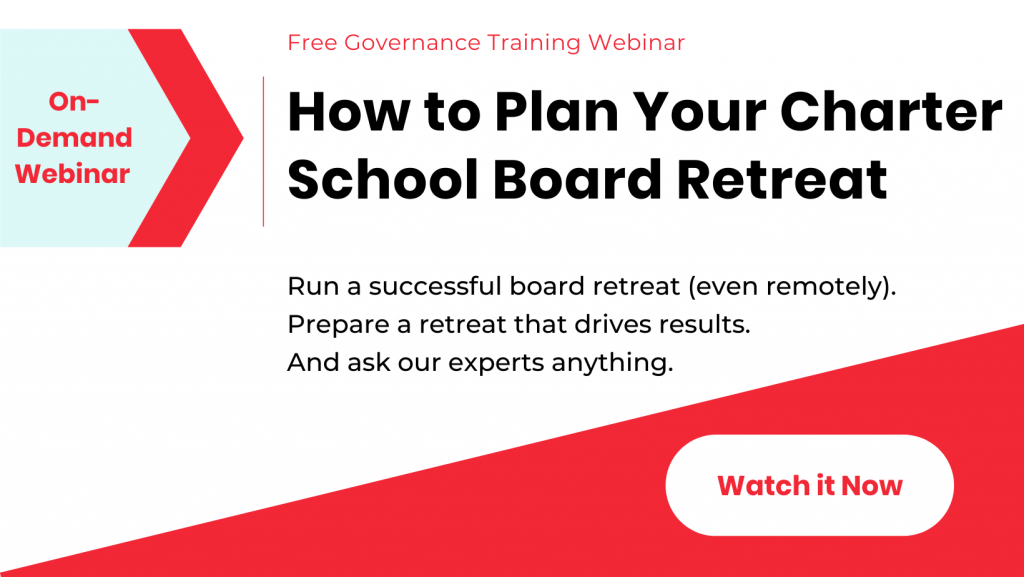 How to complete a board assessment before your annual board retreat.
Does your board have the right skill sets to govern your organization through the challenges that lie ahead?
Do you have the right tools and processes in place to govern effectively, transparently, and remotely, in the long term?
With an assessment of your board as a whole, you'll know where your board's strengths are.
You'll see exactly what your board needs to focus on in order to close any gaps or strengthen your governance capabilities in the coming year.
Strategic conversations like setting board goals, or tactical ones like selecting board officers, should be data-driven. That's where the results of your board assessment come into play
2) Assess each individual board member.
Your board assessment should also allow each board member to rate their personal contributions, structure conversations about next year's board roles, and have any discussions with board members who might not be fully carrying their weight.
(BoardOnTrack's board assessment measures both your board overall and each individual board member.)
3) Assess your board members' skills and demographics.
This is a time to ensure your board — and each committee — has both the skills necessary to govern effectively, and the demographics to represent the community you serve.
When your board members complete their profiles, BoardOnTrack compiles your board's skills and demographics into one simple report.
You see, at a glance, what skills your board members bring to the table now, where there are gaps, and even what your board's demographic make-up is.
That way, you can be strategic and data-driven about your board's recruiting to ensure that you have the skills to govern effectively and that your board represents the community it serves.
Turn those assessments into actionable plans.
You might be surprised by how many charter school boards don't set goals for themselves.
Unless you take a moment to clarify the most important things your board will do this year, how can you keep your board on track to make an impact?
And, how do you know each member of your governance team is aligned on the same priorities, for what the board is here to do this year?
Your board should leave your retreat with clear priorities for the board as a whole and be prepared to turn those priorities into measurable goals for each board committee.
And, you should also have processes and tools in place to hold your board accountable to meeting those goals throughout the upcoming year.
To set the groundwork for your board's goals, pair your board assessment results alongside your charter school's priorities.
Your board's priorities will reach beyond your charter promises.
The life of your charter is probably four or five years, though some can be as long as 10 or 15 years.
Beyond the goals set by your authorizer or established in your charter application, how will your board move the needle this year?
Ask yourselves: By next summer, what do we want to look back on to know that we, collectively, added value to the organization?
Maybe it's increasing some specific governance capabilities, or perhaps it's contributing to a facilities project, or expanding the size of your board.
Understand your charter school's overall priorities.
In advance of your retreat, make sure that at least your board chair and CEO are on the same page about your organization's needs and priorities for the coming year.
That's especially important now. Charter schools are facing intense uncertainty about what the upcoming year will look like — both from financial and academic standpoints.
You'll have major decisions to make at your retreat. You need to go into those conversations with a shared understanding about what's most important to your team, what your charter promises.
And, make sure your board has access to the appropriate school performance metrics to fully understand the overarching priorities the CEO is setting for the coming year.
Each board member should arrive at your retreat having reviewed your board assessment data — both overall board results, and their individual assessment.
And, ideally, each committee member has given some thought as to what this data, paired with your organizational priorities, will mean for their board work.
An example of a goal your board might set at your retreat.
Let's say your Governance Committee reviewed the portions of the board assessment that were relevant to them.
And, at your retreat, the board agrees that it's time for it to grow. It's time to expand from seven board members to nine. You're ready to implement another committee. You're going to add a school. The work of the board is getting more complicated.
So by the end of your board retreat, you've identified a priority of recruiting. Maybe you've even gotten as specific as to say you're going to add two board members. Take our free goal-setting course for charter school boards.
Following Your Board Retreat, board committees will turn those board's priorities into SMART goals.
Within a couple of weeks of your retreat, each committee meets to delve into the best ways to meet your organization's and board's priorities as agreed at the retreat.
Let's take the recruiting example above. This is now a priority assigned to the Governance Committee. They'll turn it into a SMART goal, with clear timing and tasks.
That might be: find and recruit two new board members who bring finance or legal expertise, and add them to the board by June 1st.
The committee will look at the strategies that will help make this happen, name the actual tasks, who will do them, and by when.
For instance: the committee reviews their BoardOnTrack recruiting roadmap, confirming that financial and legal expertise are the areas where additional skillsets are needed.
They might overlay some DEI board recruiting priorities in here, as well. If the review of that recruiting roadmap finds that the board's demographic make-up doesn't align with the community it serves, it might set specific demographics goals for the new board members they recruit as well.
Finally, your board will finalize each committee's goals.
This is such an important and critical step — to keep the board informed on what exactly each of these committees is going to be working on throughout the year and to transfer the formal charge from the board to the committees.
Throughout the year, your board will monitor your progress.
It's imperative you don't set your goals and forget them. After all, your goals dictate what you'll accomplish this year.
You'll revisit your goals throughout the year.
Use your goals to keep every meeting focused and strategically valuable.
At every board meeting and committee meeting, review your goals and your progress towards meeting them. This keeps the board's focus on the priorities for the year, not the personalities in the room.
Perform quarterly pulse checks. At your next annual retreat, do a deep dive into where your board landed with its goals this year. Did you meet them? Which ones? Why or why not? Perhaps priorities changed, or certain resources were needed?
BoardOnTrack's Board Goals Dashboard is Built to Help Charter School Boards and Committees Stay On Track to Make an Impact
See how the powerful combination of our online board assessments and board goals dashboard — built to accommodate your board and each of your committees — can help keep your board on track to achieve the results you plan at your retreat.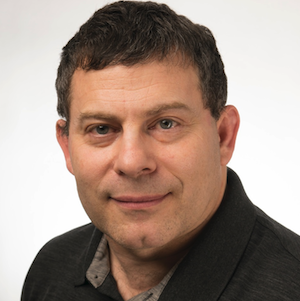 Sam Falk was the Chief Customer and Product Officer at BoardOnTrack and is based in Concord, Massachusetts.